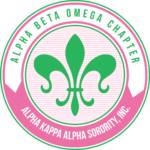 On July 23, 1927, the Alpha Beta Omega Chapter of Alpha Kappa Alpha Sorority was chartered in New Orleans, Louisiana by Susie Ione Brown, Marcella Cornella Dumas, Betty Estella Graves, Hattie Price Jones, Mary Henrietta Jones, and Pearl Grigsby Richardson. Alpha Beta Omega became the 30th graduate chapter of Alpha Kappa Alpha Sorority and the first Black Greek Letter sorority in Louisiana.
Community service has always been the heart of Alpha Beta Omega. Early chapter programs included providing scholarships to young women at Talladega College, hosting vocational guidance teas for junior high students, donating toys to African American nurseries, and participating in the Mississippi Health Project where chapter members distributed vaccines to prevent small pox and diphtheria to sharecroppers in the Mississippi delta.
During the 1930s, Alpha Beta Omega started the May Day Court to showcase youth and raise money for scholarships. After many successful May Day fetes, the chapter developed a parade of fashions with a definite theme. The first was held April 10, 1942 and called "Fashionetta Dream"—a name given by chapter member Louise Bouise. This successful fundraiser has become a symbol of the National Scholarship project for Alpha Kappa Alpha.
Other successful programs sponsored by the chapter include eyeglasses to Africa, Voter Registration Drives, AKA Coat Day, Health Fairs, Buckle-Up, Pink and Green Legislative Day at the Capital, hygiene kits for the homeless, toys for children at Christmas, partnering with the Red Cross to educate the community on HIV/AIDS, and Poise N' Ivy etiquette workshop for junior high girls. The chapter's signature program, The Beautillion, was developed in 1989 to provide positive enrichment activities for young black males in high school. The program culminates with their presentation to society and awarding of scholarships.
Membership of Alpha Beta Omega includes talented and professional women who are dedicated to carrying on the traditions, ideas, and goals established by Alpha Kappa Alpha's Founders. With more than 95 years of service, Alpha Beta Omega Chapter members have pooled their resources and talents to help improve the quality of life in the Greater New Orleans community.